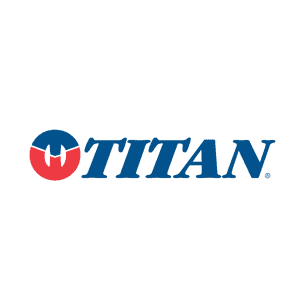 Titan Steel Wheels located near Kidderminster, Worcestershire manufactures vehicle wheels for a wide variety of off-the-road equipment which includes earthmoving, construction and mining sector vehicles.
The Challenge
Opensoft Systems were approached to take a look at their control system within their Electrophoretic Paint Facility. The operation had a Wonderware InTouch SCADA system which monitors the paint facility process.
The original installation was carried out in the mid 90's, the SCADA operating system was running on a Windows 95 operating system, which has long since been obsolete.
This then communicated with an Allen Bradley PLC5 which although still functioning well, is now obsolete and was connected by Serial Communications rather than Ethernet.
The SCADA system hardware had started to fail more recently, resulting in the inability to recover the system to a bootable state. This led to an inability to monitor the process by the operators and quality team resulting in quality issues leading to re-work within the process.
The SCADA could not be migrated to a virtualised environment due to corruptions caused through Multiple re-boots of the system.
The Proposal
Opensoft systems proposed to re-develop the application using Wonderware – InTouch software and integrate it into the exisiting PLC 5 hardware.
The Solution
Opensoft Systems delivered a Functional Design Specification (FDS) and redeveloped the SCADA using the new application while keeping the same look and feel of the existing Mimics and functionality.
The SCADA system was upgraded to the latest version of Wonderware InTouch SCADA 2014 R2-SP1 and deployed on a modern PC running a Windows 10 Operating System.
During the commissioning of the system, the SCADA communications were establsiehd by configuring an OPC Server within Wonderware to an RSLinx gateway. The interface was then connected to the original PLC using an RSLinx gateway and a Rockwell USB Network adapter.
---
Screen Comparison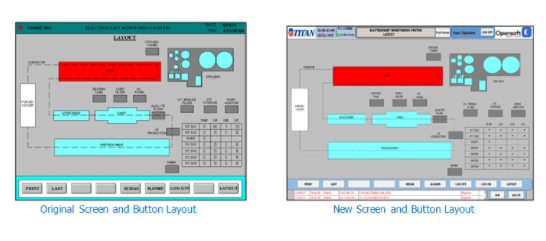 ---
Client's Feedback
"In updating the top end SCADA system and leaving the original PLC in place, Opensoft Systems were able to deliver and deploy a solution that was not only cost-effective but practical too. We are very happy with the recent project."
Production Engineering Manager 
Titan Steel Wheels
---
RSLinx gateway & Rockwell (Allen Bradley) USB Network adapter